With the end of 2023 just a few short months away, you may already be planning to implement an overhaul to your dental website in the coming year. But, where to start? Because your site is often the first point of contact with your business for many prospective patients, it's essential that you incorporate the features they expect, like scheduling an appointment online, bill pay, and record access.
You also need to leverage the marketing power it brings to your revenue stream. To help you find inspiration, ADIT updated its picks to highlight the top dentist websites of 2023. These newest dental sites provide a comprehensive patient experience and leverage the latest SEO and advertisement tools to maximize their SERP rankings. Read on to check out what sets their pages apart from their competitors:
100 West Dental
When you first arrive at this dental website, you can't help but stop and admire the visuals. The design is bold, the photography is customized, and its brand voice is undeniable in every aspect of its content. This practice has managed to balance the traditional sophistication associated with dentistry while injecting a more urban appeal. With a vision of providing patient experiences that are "unexpectedly awesome," this dental business has successfully created a new approach to care their patients can't stop raving about.
Preston Dental Loft
Creating an ideal balance between a sleek modern design that incorporates calm messaging and colors is one of our top websites of 2023 to take notes from. The soothing transitioning images on a photo gallery carousel feature in the header immediately grabs your attention. In addition, the welcoming language and friendly candid photos of staff, patients, and smiles give a more personal atmosphere to the overall browsing experience.
With the inspiring testimonials and shared video multimedia introducing Dr. Patel and her staff, it's no wonder this office has had great success in dominating SERP rankings in their service area.
Atlanta Center for Advanced Perio
As a leading provider of periodontal surgery throughout Roswell and Midtown Atlanta, this dental website is a top pick for 2023 for many reasons. The navigation and overall website design are modern, uncluttered, and sleek. This practice caters to high-end patients, so its brand personality must be evident. A clean, clutter-free, and modern design reflects the character of the business and the high-end patients they seek to attract.
By incorporating custom videos, photos, and other media, this dental business can convey the level of expertise it has to offer its patients. All of these features get enhanced by careful use of the site's whitespace and subdued color palette. All of this combines with approachable copy language that leaves one feeling welcome and invited.
Domino Dental
At first glance, this dental website makes you feel young and excited about getting the smile you've always wanted. With bright colors, exciting font styles, and crisp images showing off comfortable chairs and enjoyable patient experiences, this practice wants you to know they can't wait to give you the care experience you deserve.
It's also smart how Dr. Lilya uses page copy that acknowledges the pain points that many prospective patients experience. From highlighting their broad array of available services to compassionate care and testimonials, it's undeniable that this is a top dentist website of 2023.
Smile & Co.
If you are a dental practice looking for a way to use minimal design effectively and let your brand do the work, Smile & Co. is a great reference point for ideas. When less is more, it's important to share your narrative skillfully. Dr. Jove did this by opening with her own, relatable experience as a patient and her vision as a dental provider.
When you read the page copy, it's all presented in small, concise snippets that are approachable and informative without cluttering up space. Additionally, the clean, organic color scheme is bright, relaxing, and professional, everything a prospective patient can appreciate when first visiting this dental website.
Timberhill Dental
Many of the very best dental websites feature ample white space, but Timberhill Dental makes navigation equally important. Just one quick spin of the mouse wheel to scroll down, and you not only see exactly where the office is located, but the entire team is waiting for you with smiles. Since an appointment scheduling feature is embedded on their main page, this site quickly and easily converts prospects into bookings.
We would be remiss not to mention the smart use of fonts and circular headshot style of patient pictures for the testimonial section of the homepage. This helps them pop out and encourages visitors to read these reviews while browsing. The use of informational content in the sidebar makes it even easier for patients to quickly jump to different topics they are interested in, too.
Cure Dental
This dental practice website is all about beautiful smiles and accessibility to important dental services. Dr. Shipley uses his site to connect with his market audience personally, exuding compassionate messages of his commitment to his patients and their oral healthcare. The use of a larger font on the navigation menu ensures that all ages can easily find the information they need. Combine this layout with incorporated options for online appointment scheduling and one-click calls to not only improve your page appeal but your lead conversion rate too.
Tend
New York City is one of the most challenging places for dental practices to stand out. This dental office is truly one of the best dental websites of 2023 because it edges out competitors and drives prospective patients to book appointments online. With several thousand licensed dentists in the area, Tend managed to achieve this through minimalistic style and page copy that is easy to digest. The homepage is full of photos, some of which are dynamic and provide different angles and views.
This website also successfully highlights not just patient reviews with direct links to the site they were originally posted on, but it also shares received recognition. With all of this information found on the homepage, Tend balances it with catchy sub-titles and descriptions that keep visitors scrolling for more.
Bethesda Family Dentistry
Bethesda Family Dentistry should be your first stop for inspiration if you want to create a more zen feel to your dental practice website. With the opening homepage image being a bubbling brook accompanied by muted hues of aquamarine and snowy white, patients will find their visit calming and unstressful.
This dental firm also provides plenty of up-close photos of beautiful smiles, before and after examples, and even a Google 360 tour of their office! These features help patients develop a sense of familiarity before ever stepping foot in the office, which can help reduce anxiety significantly.
Placement of appointment booking buttons front and center on the page for each doctor also makes navigation a breeze and increases conversion opportunities. Even better, they include testimonials that have clickable links so leads can verify where these reviews come from and read even more.
Orange Grove Family Dentistry
From the moment you arrive at their page, the modern design comes across as approachable and inviting. The calmer tones of gray and white with a splash of tropical feel with images featuring natural materials like palm leaves and wood are a nice break away from traditional antiseptic colors of white, blues, and turquoise.
Reading through the site page copy, the values and vision of this dental company are unmistakable. In addition, this site makes good use of its calls-to-actions and ensures its usage enhances the ease of navigation around the website itself.
Sunshine Family Dentistry
Sunshine isn't just a metaphor on this site. One of the reasons it made our best dental websites is because of how marvelously the color scheme represents the practice's name. Not only that, but Dr. Mertz uses a conversational approach to describing her practice's services and patient experiences. Using relatable personal stories and language that reaffirms their commitment to patient comfort and satisfaction, this office doesn't limit itself to only a few market audiences.
If you want to use videos and other multimedia to convert visitors to your practice, note the engaging content embedded on this site. Not only does it provide important practice information, but it also does it in a way that any patient can easily understand and relate to.
Thrive Dental Co.
If you are part of the growing trend of eco-friendly dental practices, Thrive Dental Co. is the perfect example of how to create a layout that highlights your commitment to patient health and the planet. You can see how using leaves as section breaks helps keep the eye moving through content on this site. Also, floral designs around photos add a framing effect, making the page feel less impersonal.
We found the hand-drawn styling also very appealing, combined with the subdued mint green color palette on white. It's crystal clear this practice is serious about its commitment to operate in a green manner.
Jackson Family Dental
As soon as the main page has loaded, visitors get immediately introduced to the patient experience through a prominent video carousel header feature. You learn a lot about this practice in just a few short seconds. From a welcoming team to cutting-edge dental tech, Jackson Family Dental quickly touches on several service highlights and offerings right off the bat.
This is probably one of our favorite dental websites that we have seen in 2023 because it engages quickly and skillfully with its market audience. The professional videos and images that have a unique technology-focused approach really help prospective patients appreciate the benefit of the treatment options this business provides.
Smile Moderne
If your current site currently feels cluttered, out-of-date, and impersonal, check out Smile Moderne when evaluating your options for your dental website. Not only does this company create a design experience that is streamlined and clean, but it's modern and welcoming all at the same time.
This practice page is relatable thanks to the incorporation of a welcome letter penned by Dr. Chris and his staff. This added window into the story behind the brand gets further amplified by unique design customizations that help the layout stand apart from other dental sites.
Grand Street Dental
Our top websites compilation for 2023 wouldn't be complete without including a site example that takes an artistic approach to its design. Grand Street Dental in Brooklyn prides itself on redesigning its approach to traditional dentistry. They further underscore this message through stunning photography, a soothing color palette, and abstract shapes throughout.
This office also offers numerous before and after photos to highlight the superior dental care and expertise provided. With a straightforward navigation menu, prospects can simply click a button to begin the scheduling process.
Perch Dentistry
Rounding out our list of best dental websites this year is Perch Dentistry. The design of this site is impressive for so many reasons, so we will try to focus on the highlights. But, first, the overall layout and color scheme is beautiful. It's not only pleasing to the eye, but it adds warmth in a dental industry where bright palettes typically dominate.
All of the photographs are professional but still have candid appeal. This dental office also makes good use of its social media marketing by including easily found hyperlinked buttons that transport visitors with just a click. With webpage copy offering a spa-like experience and modern treatment options, this company clearly communicates its ability to provide expert care and the professionalism their patients expect.
Discover Adit's Dental Website Design Services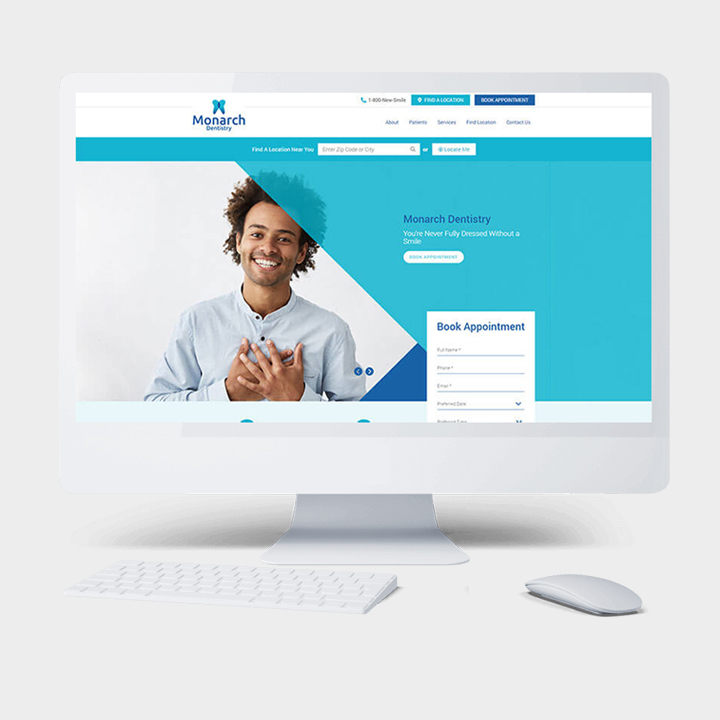 When you begin creating or revamping your dental practice website in 2023, focus on tailoring it to your brand. This ensures you get the maximum exposure needed to improve your overall market reach online, which translates to improved conversion rates and ROI. Take note of the many robust features now available for dental websites and speak with one of the skilled site designers at ADIT about customizing them to fit your business objectives.
Our team understands that this process can be overwhelming at first, or you may not have time to spend on your site because of your busy practice. Trust Adit to create the perfect dental website for your brand. From intuitive navigation features to fast load times, engaging media, and in-demand patient portal features, we can design a site your patients will love to interact with.
Got questions? Reach out to us for more information about how we can help your dental practice succeed with a fully customized website in 2023!
Request your free demonstration today!