As a dentist, you know the importance of staying on top of the latest developments in your field. The same can be said for your site. It effectively extends the reach of your practice by operating as an online extension of it. Your dental website may seem like a one-and-done marketing purchase, but it requires more than general upkeep. However, when you have a well-built practice page and know the ins and outs of online marketing, your dental site can open up a whole new world of potential patients who are eager to schedule an appointment.
Ready to attract more patients and maximize your ROI for your dentist website in 2023? Check out this updated list of top tips to run your practice page more effectively in the coming year.
1. Is Your Dentist Website Optimized?
If a search engine can't find your website, it's just an empty and pretty space that no one will check out. What factors must a website have in order to be searchable? A dental office needs to identify itself as a dental provider in their title and URL. If possible, state the location of the office so that it is easily found online. All your copy and content should include keywords that people are actively searching for. And this will change over time, which is why you need to keep your dentist website filled with new content and posts to ensure the most relevant information for potential clients or customers.
When you publish posts, the blog's keywords may change to represent your new focus better. You can also update your older content. Refreshing and updating content on established sites can generate better SERP rankings, as well. Change the page copy from time to time based on new content. Also, consider repurposing outdated blog posts into new media to improve their effectiveness.
2. Take an Organized Approach to Site Navigation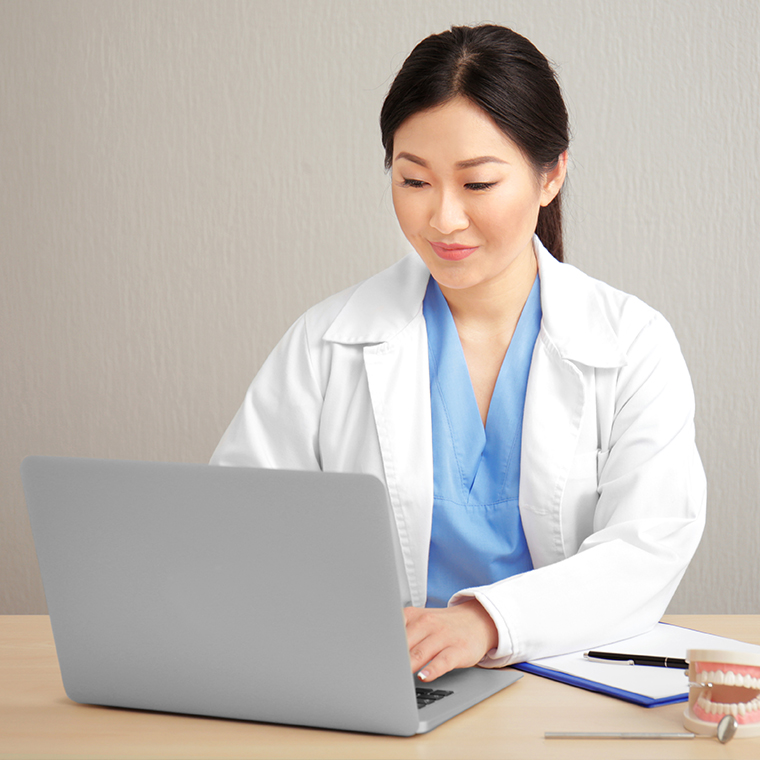 Navigation should be intuitive for potential clients to use. One of the main goals for your dental website should be to convert browsers into customers. To do this, your prospective patient should be able to locate contact information or topics of interest with minimal effort.
The menu should clearly state what each page offers, and those must highlight why you are different from your competition. For example, they should see a clear call to action about scheduling an appointment. If they are not interested in booking at that time, you need to have features that can capture their contact information to follow up with them later. This could be through a newsletter sign-up or a new patient offer in exchange for their email.
Offer a fun dental quiz with prizes like a whitening kit, and make sure they know to register first. The title should strike an interest to make people want to participate and learn more about your service offerings.
Maybe your mini questionnaire could ask them something about themselves that will clue you into the type of dental care they seek. The bottom line is you want patients to keep their issues in mind and commit to booking an appointment for treatment by your dental practice.
As you clean up your navigation system, make sure to label all of your internal links clearly. It is helpful for readers and search engines when a dentist website has this included as part of its navigation design. Being able to access one page from another using in-page content is extremely convenient and user-friendly.
3. Organic Marketing is Complex, but Worth It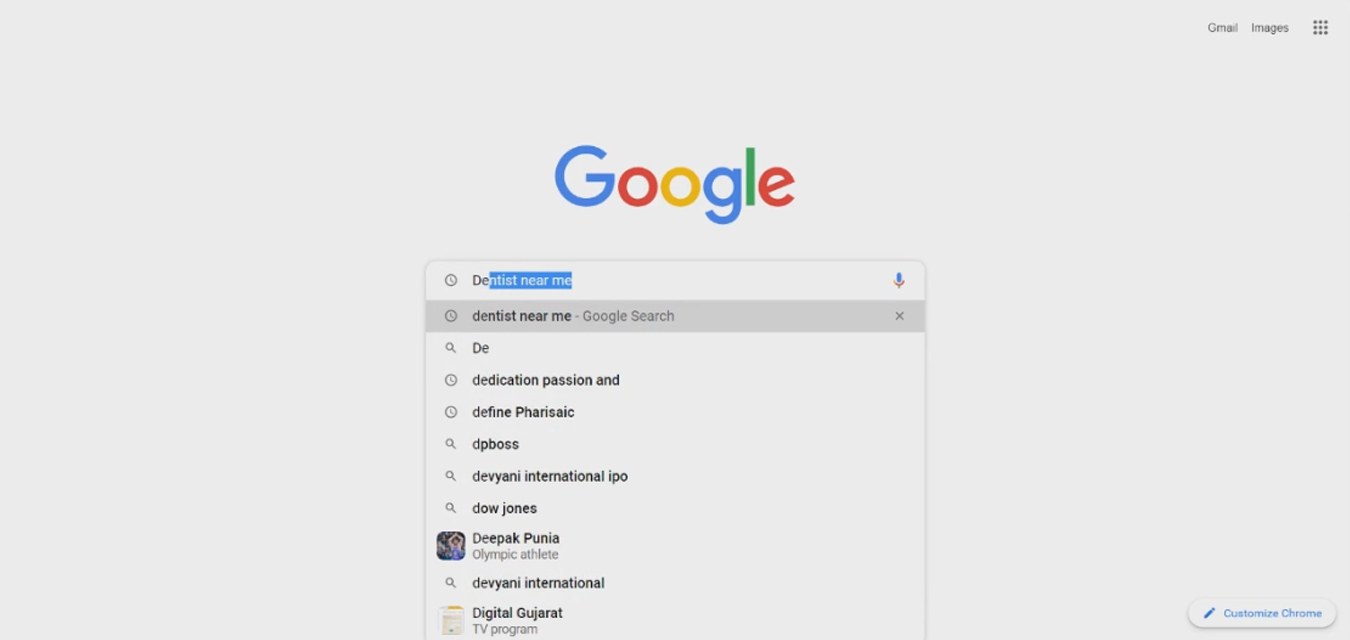 The goal of any dentist's website is to outshine competitors when potential patients are searching for a new dentist. Search engine optimization is the process by which you optimize your content and website design to rank higher on search engines like Google. Professional web and content developers can have your site rank better on search engines, which will cause an increase in traffic.
Organic marketing includes anything you do to promote your business that does not cost any money, such as blog posts, guest posts, or tweets. At Adit, we will help you improve your revenue stream through various methods, including organic marketing features within your dentist website.
4. The Best Dental Websites Use Online Advertising

When you advertise your dental services online, you specifically target people who live in the same geographical area and have shown interest in your services. Perhaps they are searching for a dentist or looking into dental implants. With online marketing, you can advertise to those most likely to become future patients.
Target patients in the market for your services by advertising online. More and more of your potential customers are going to search for a doctor on the Internet. At Adit, we use Google Ads and other facets of your digital marketing strategy to get these patients to your dentist website.
5. Provide Appointment Scheduling on Your Practice Page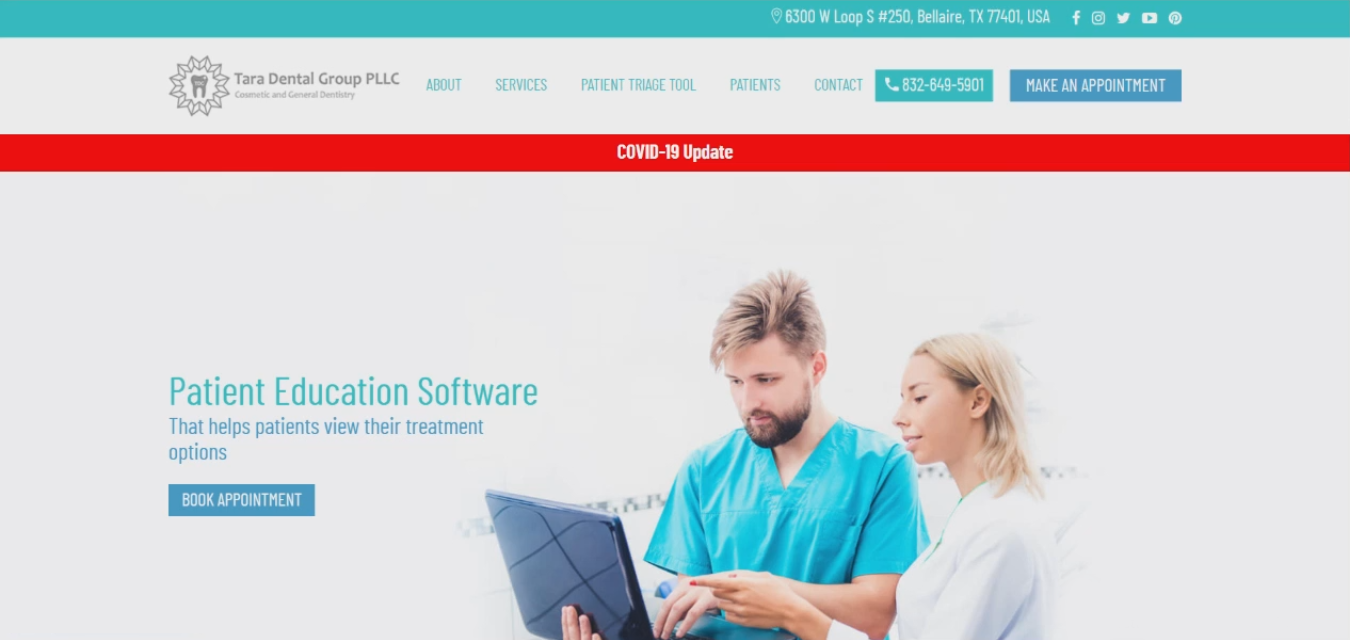 Many patients want to be able to schedule an appointment after hours because their work schedules get in the way of calling when you're open. If you can't provide an automated scheduling system on your website, it's less likely they will follow up later when you're available.
Typically, there are two ways that a prospective or existing patient can book. First, traditional dentist websites only offer a contact email that often requires a later phone call with your patient coordinator to get the details needed to schedule. This can be tedious and requires your office and the patient to set up a time to communicate about setting an appointment time.
Instead, the second method of scheduling is more efficient. Through automation, not only can a patient pick a time according to a built-in calendar on your site, but they can also submit important health information through an automated questionnaire. This allows them to schedule at their convenience and allows your team members to focus on serving clients currently served in your office.
6. Your Dental Website Should be Unique
Though it's obvious, no one likes a copycat. There are a lot of similarities between the dental websites on the Internet. It is common for content creators to use the same templates, imagery, and layouts as each other. When choosing a dentist, patients typically explore many different providers in their area. Would you risk using the same design as a competitor? If you want new patients, don't use cookie-cutter websites that mimic other dental offices you compete against locally.
7. Highlight Your Brand's Identity
In a world where people are bombarded with images and information all the time, branding your business is an essential step in generating leads. This includes dental practices as well as other types of companies. If you maintain a consistent branding presence on your dentist website, people will soon identify your business by those standard design features. Branding is recognizable in many areas of your business, from on-site logos to marketing copy.
Know what your brand stands for and what it isn't so you can eliminate distractions.
8. Own Your Domain and Site
Is it better to lease a website or own one? Some dentists' rent' their sites from developers and may lose ownership of them if they take control of the site themselves or find a new developer. Don't make this mistake and hold onto your rights. To best protect the health and longevity of your dentist website, you should protect your ownership of it.
9. Mobile Optimization is a Must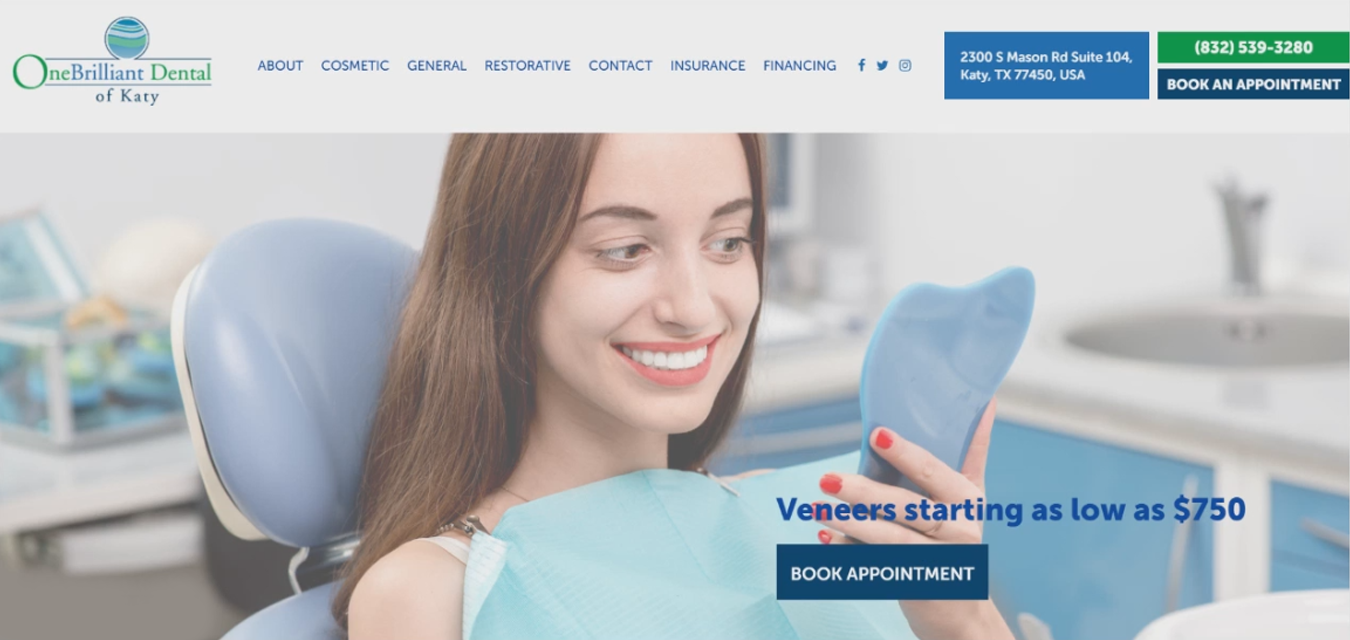 Over the last decade, smartphones have become ubiquitous. As such, how we research potential doctors has transformed completely. For example, if someone has a dental emergency while out to dinner with friends, they will first begin their search for care on their phone while sitting at the restaurant table. Making sure your site is optimized for a mobile experience ensures that information is available to patients when they need it most. Furthermore, Google has made it clear that it prefers websites that function well on mobile platforms.
10. Educate Your Patients
To market your services to new and existing patients, you need places on your website where they can learn about what you do. Not just as a marketing tool but also to teach customers about procedures and the latest treatments you have to offer.
For example, you can highlight the types of sedation methods you offer to help patients feeling anxious about the pain often associated with dental procedures. For those who can't handle any kind of procedure regardless of discomfort, you can provide SEO-optimized content that educates them about what to expect.
Dentist Web Sites are a Great Place to Start Your Content Marketing
A professionally-built dental website will give your practice more exposure and likely lead to new patients. Reviews highlighting outstanding patient experiences and outcomes are especially important as part of your procedure sub-pages. This way, prospects know more about your service quality and feel more confident in booking an appointment with your practice.
Educating your patient about the dental technologies that exist is a must. Then, talk to them about the various ways you make their smiles even better. These are fantastic services that make people look their best and make them feel confident.
Grow Your Dental Practice with Adit Website Building Services
Are you excited to start marketing your dental company effectively with a new dentist website? At Adit, we can create an intuitive practice page for your office that drives traffic and boosts your conversion rate. Maximize your advertising budget with our technologically advanced digital marketing services. Trust our team to assess, create, and implement successful dentist website planning and design to build a website that connects with patients and increases your overall ROI.
Adit is the leader in dental digital marketing because we get practices like yours to the front page of search results. We have the proven case studies to back up our results, and we know what it takes not only for you to rank high but also how best to drive new patients to your office.
Worried that a professional marketing company will only help you look good online but is ineffective in managing your practice? We understand! Adit offers a Patient Booking Guarantee that if you don't break even, then you won't have to pay.
Request your free demonstration today to learn more about this guarantee and the comprehensive digital marketing strategies and tools we offer!